About Us
We Are Waterfall Euro Doors
We believe in providing the very best.
"Shower in luxury" is what we say. The Waterfall European Shower Door was designed by our experts to provide you with the classic, elegant look you have always wanted in your home. The features of this exclusive product include: heavy 3/8″ thick glass with high polished edges, solid brass/stainless hardware in a variety of finishes to match your personal taste and décor, and custom fabrication and installation. Make your shower environment one of a kind! From traditional to contemporary, the Waterfall Euro Door™ completes the look.
Whether you are building a new house or just remodeling the bathroom, Waterfall Euro shower doors can add beauty and elegance. The bathroom is no longer just another room — it is rapidly becoming a room to showcase. So to enhance one of the main focal points in your bathroom, the shower area, you need Waterfall Euro Doors to create a design for you. Our quality & craftsmanship speaks for itself.
Because Euro Style doors have no need for frames, our shower doors have a look and feel that is unmatched by any other design. The thicker glass that we use help make your shower sleek and stylish!
Who we are
We bring elegance and beauty to your shower or tub enclosure
Waterfall Euro Doors are designed and built by Westshore Glass & Mirror, located in Byron Michigan. We have the finest highly skilled designers and installation team that can bring you the ultimate in European Shower design.
Our Mission
Our goal is to produce and install the most elegant and luxurious shower door possible.
The best form of advertising is "word of mouth."
" This business specializes in custom shower doors. It is all they do, and they are great at it! If you are looking for quality work and very high end, contact them. They will direct you to one of their dealers, and from there, it is easy to get a beautiful shower door! Mine was installed in less than two weeks, just as promised, and I am very happy."
Elizabeth Peters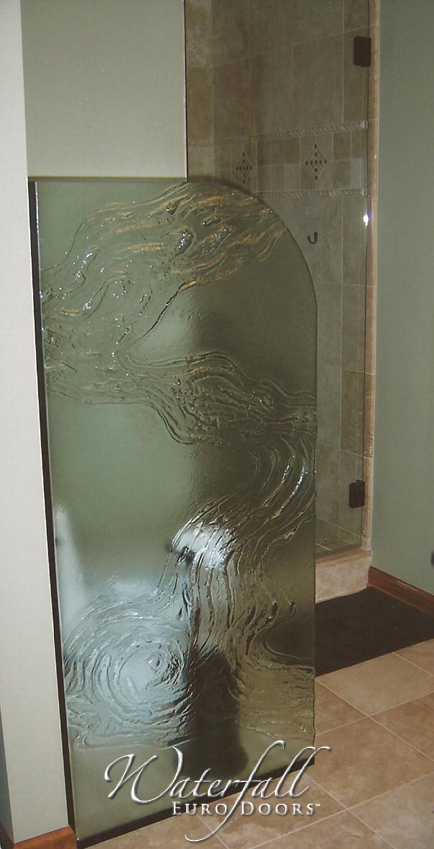 We Can Help You Find a Dealer Near You
We can help you find a dealer located near you. Give us a call today or fill out our contact form.
Our Mission Statement
Our goal is to produce and install the most elegant and luxurious shower door possible.
Clean Glass Technology
A protective coating that can be applied to any Waterfall Euro Door at our facility.
Dealer/Customer Checklist
Important information your need to know before we install your Euro Door.
Contact us is easy and simple - call Toll Free 888-704-EURO or
if you have questions about any of our products please feel free to contact us.