Clear Shield Technology
What is ClearShield?
It is a polymeric resin that protects glass like "non-stick" cookware. It's an invisible protective barrier against harmful organic and inorganic contaminants. As a result, ClearShield keeps your shower enclosure cleaner, easier to maintain and looking like new! It also promotes a clean shower environment by reducing bacteria growth.
It has a 5 year warranty, and can be applied to any Waterfall Euro Door.
Why do I want ClearShield?
Keeps glass looking like new!
Reduces water spots (limescale and mineral deposits)
Is always easier to clean
Stays cleaner longer
Signifcantly reduces the growth of bacteria
Protects your investment
Let us know if you are interested in having ClearShield applied to your Waterfall Euro Doors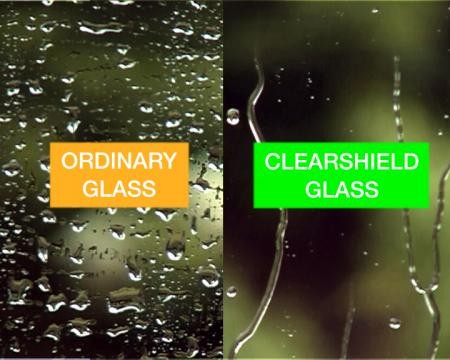 Caring for your ClearShield Protected Shower Glass
For best results and to maximize the performance of your ClearShield-protected Shower Glass, rinse with water and squeegee dry after each use. Then clean your shower glass every 2-3 weeks with AfterCare for Shower Glass. AfterCare offers optimum-cleaning benefits, maximizes the long life protection of ClearShield, includes an anti-bacterial formula and leaves a clean, fresh scent.
AfterCare is also safe to use on all shower framework and hardware.
In hard water areas, it is recommended that AfterCare for Shower Glass be used weekly or as required. Also use of our Limescale Remover is recommended for more stubborn spots.
DO NOT USE any abrasive scouring powders or pads, highly acidic / alkaline cleaners or sharp instruments to clean your ClearShield Shower Glass. These can permanently damage the glass.
Glass Cleaners like Windex and Glass Plus, will not harm ClearShield Glass, although they are unnecessarily strong. Never use commercial strength cleaners or products such as Lime Away or CLR on ClearShield Glass.
In addition to AfterCare, an effective and inexpensive glass cleaner that will not harm ClearShield Glass is a simple mixture of 80% water and 20% vinegar. Place mixture in a spray bottle, apply to glass and wipe clean.
We Can Help You Find a Dealer Near You
We can help you find a dealer located near you. Give us a call today or fill out our contact form.
Our Mission Statement
Our goal is to produce and install the most elegant and luxurious shower door possible.
Clean Glass Technology
A protective coating that can be applied to any Waterfall Euro Door at our facility.
Dealer/Customer Checklist
Important information your need to know before we install your Euro Door.
Contact us is easy and simple - call Toll Free 888-704-EURO or
if you have questions about any of our products please feel free to contact us.