Dealer/Customer Checklist
A Checklist for European Shower Doors
In considering Waterfall Euro Doors for your project, there are several very important points to make the template and installation process as smooth as possible. Please use this checklist with each customer to ensure that there are not going to be any potential problems.
Backing Material (such as 2 x 4 construction, on the FLAT) is necessary at each hinge and clamp location to ensure stability of the unit. If this is a remodel and we are not sure of backing, is there a way to add blocking from behind if necessary? (This cannot be done on an exterior wall.)
Due to the nature of a European shower stall, Waterfall cannot guarantee 100% steam or water retention. This is something to consider when placing the threshold on the curb, as well as designing placement of body sprays. For the threshold, we recommend a slight slope to the inside of the shower.
Waterfall cannot hinge, clamp, and/or screw into glass tiles. Although beautiful as accents, glass tiles cannot be placed on the curb and/or walls where the shower glass will be anchored.
What is the shower pan made of? Some of the new materials, such as cast iron, cannot be drilled into, and the one piece foam bases do not have adequate structure for drilling into.
We can still build a shower door, usually by just changing the hinges.
It is inherent that some bowing of the glass can occur during the tempering process, which cannot be controlled.
Handles and towel bars are designed for that specific use only. They must not be used as grab bars of any kind.
These doors are very heavy, and there are no stops on the hinges. Please use care with this product, especially with young people.
When discussing height of the shower enclosure, consider how tall the customers are, how high the ceiling is, how high the tile goes, and how high the showerhead is. All of these factors can affect what a good height for the unit can be. Basic height, starting point, is usually about 72".
The European style shower doors require very exact measurements. For this reason, they CANNOT be templated until all the finished materials are in place and attached. The tile must be completed, (we prefer grouted), and any granite or marble (such as a step or seat) must be fully attached before we can take measurements. Please make sure of this before having us set up the template appointment.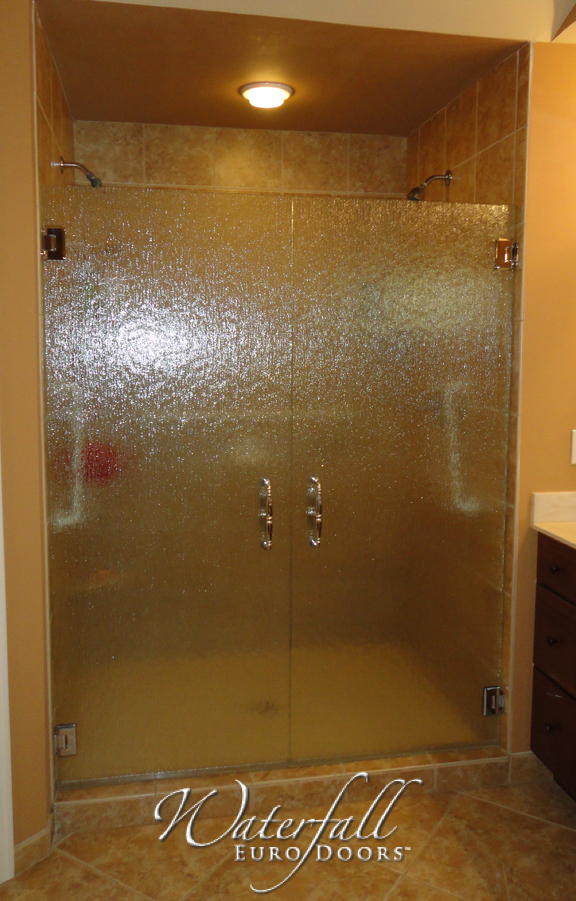 Thank you for your help! We believe that going over these important guidelines with your customers will help us to make them a shower enclosure they will absolutely love for years to come!
We Can Help You Find a Dealer Near You
We can help you find a dealer located near you. Give us a call today or fill out our contact form.
Our Mission Statement
Our goal is to produce and install the most elegant and luxurious shower door possible.
Clean Glass Technology
A protective coating that can be applied to any Waterfall Euro Door at our facility.
Dealer/Customer Checklist
Important information your need to know before we install your Euro Door.
Contact us is easy and simple - call Toll Free 888-704-EURO or
if you have questions about any of our products please feel free to contact us.